David E. Guggenheim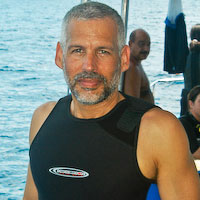 Marine Scientist
David E. Guggenheim, also known as the "Ocean Doctor," is a marine scientist, conservation policy specialist, submarine pilot and ocean explorer. He played a leading role in building the recently-formed Gulf of Mexico Alliance, a partnership among the U.S. Gulf states and 13 federal agencies and Mexico. In 2007, as a scientific advisor to Greenpeace for its expedition to map deepwater corals in the Bering Sea, he piloted the first-ever manned submersible dives into the Bering Sea's largest underwater canyons.
Dr. Guggenheim is currently leading a major project to elevate collaboration in marine science and conservation among Cuba, Mexico and the U.S. to a new level and leading the first-ever comprehensive research and conservation program in Cuba's Gulf of Mexico region, a joint effort with the University of Havana. He is president of 1planet1ocean, a project of The Ocean Foundation where he is a Senior Fellow and director of its Cuba Marine Research and Conservation Program.
The host of the ExpeditionCasts podcast series, Dr. Guggenheim is also engaged in a special "expedition" to all fifty U.S. states visiting schools with programs about ocean exploration and conservation. He is also working to introduce cutting-edge technologies for sustainable aquaculture practices to the Americas to reduce pressure on overfished wild fish stocks.