The Unbearable Lightness of Memory
Date & Time
Friday, June 3, 2011
8:00 PM - 9:30 PM
Download iCal reminder »
Location
The Kaye Playhouse at Hunter College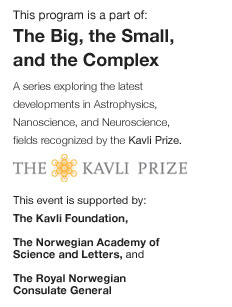 It's the thought of your childhood home. It's that comforting aroma you can still smell ten years later. It's the way you define yourself. It's your memory. Where is memory stored? How do we recall? Why do we forget? We'll shine a light on these and many other questions about long-term memory from a molecular, psychological, and emotional perspective. The audience discovered how their long-term memories can be naturally twisted, tweaked, and changed, and how memories of the past could also help us peer into the future. We explored the bumpy road even a youthful mind sometimes travels when experiencing déjà vu, succumbing to suggestibility, or having a "senior" moment.
Related WSF Salon: Manipulating Memory: Progress and Implications
On the Blog: The Biological Mechanism That Gives Life Meaning
See all the content from this program
This program was part of The Big, the Small, and the Complex, a Series made possible with the support of The Kavli Prize.
Moderator
Dan Harris

Dan Harris was named co-anchor of ABC News' weekend edition of Good Morning America in October 2010. Additionally, Harris is a New York-based correspondent for ABC News' broadcasts and platforms, including World News with Diane Sawyer, Good Morning America, Nightline, ABC News Digital and ABC News Radio. More »