Why We Prevailed:
Evolution and the Battle for Dominance
Date & Time
Saturday, June 2, 2012
6:00 PM - 7:30 PM
Download iCal reminder »
Location
Tishman Auditorium at The New School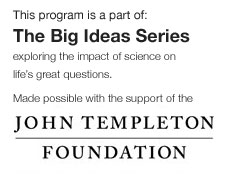 We once shared the planet with Neanderthals and other human species. Some of our relatives may have had tools, language and culture. Why did we thrive while they perished? Join evolutionary biologists, geneticists and anthropologists as they share profound insights about the origin of man and retrace our singular journey from fledgling prototype to the most dominant species on Earth.
This program is part of The Big Idea Series, made possible with support from the John Templeton Foundation.
See all content from Why We Prevailed
Watch this program
Moderator
John Hockenberry

John Hockenberry is an award-winning journalist with twenty-five years experience in radio, broadcast television and print. He is the host of WNYC and PRI's The Takeaway, a correspondent for PBS Frontline, and a noted presenter and moderator at conferences such as TED, Aspen Ideas, and the World Science Festival. More »