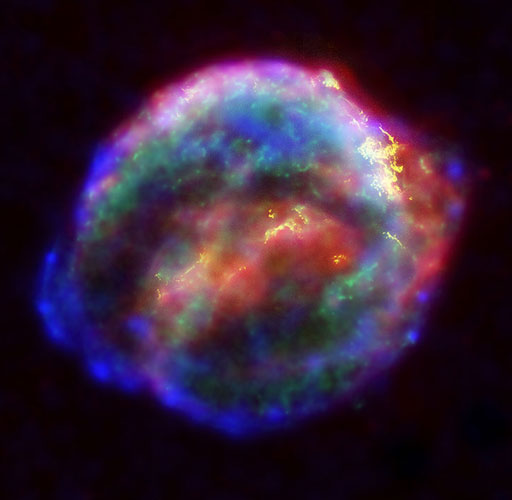 Francis Halzen, an experimental physicist from Belgium, imagines a day when he receives a phone call from a supernova. How is it possible to receive a call from an exploding star?
The messenger of a supernova is none other than the humble quantum particle, the neutrino. Allow me to explain. Named "the little one" by physicist Enrico Fermi, a neutrino is an electrically neutral elementary particle. The mass of a neutrino is extremely small even by sub-atomic particle standards. Its diminutive size lets it travel great distances and slip through matter unharmed, as though matter were nothing at all. The neutrino spawns from the decay of an atom's nucleus. This happens naturally in stars such as our own sun, and when cosmic rays collide with atoms. Neutrinos can also be produced artificially in nuclear reactors and atomic bombs.
Now back to that phone call. How can neutrinos signal an oncoming supernova? As a star explodes, atoms rip apart, sending a giant expanding sphere of neutrinos zipping through space at the speed of light (not faster, alas). These neutrinos herald a fireworks display just minutes behind: photons from the supernova.
As Halzen explained last night at the World Science Festival's The Elusive Neutrino and the Nature of the Cosmos, neutrino sensors stationed all over the planet act as giant cellphones waiting to ring when an onslaught of neutrinos strike. Want to be notified in the event of a neutrino burst? You can! Sign up to receive an e-mail from the Super Nova Early Warning System.
Just don't lose sleep waiting for the "phone" to ring. The last time SNEWS received a signal from a super nova was on February 23,1987. On that eventful day, cosmologist Lawrence Krauss told audience members, we were all unwittingly bathed in an invisible shower of neutrinos. Somewhere, somehow, one of those little neutrinos probably stealthily struck an atom inside someone's eyeball, causing them to see a harmless but mysterious flash of light. Whether receiving an e-mail update from SNEWS or seeing a random flash inside your eyeball, the neutrino is our direct line to the stars.
Photo courtesy of NASA
See rapper John Robinson spin a lyrical history of the elusive neutrino
The Elusive Neutrino and the Nature of the Cosmos takes place on Friday, June 1, at 7:30 PM at Tishman Auditorium at The New School. Get tickets or view the full festival schedule to learn more about the many other 2012 Festival programs.