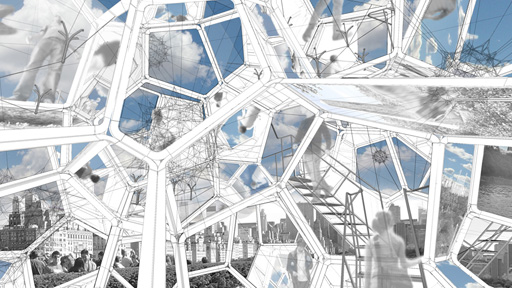 When we think about an artist as an innovator, clearly the first name that comes to mind is Leonardo da Vinci, the quintessential Renaissance man. Indeed to Leonardo himself, his scientific studies were as important as his art. Leonardo's anatomical drawings alone, had he actually published them, would probably have produced significant advances in anatomy decades prior to Andreas Vesalius's seminal work on the functioning of the human body. (Leonardo dissected no fewer than 30 human corpses.)
The influence of science on Leonardo's artwork is well documented. However, a much lesser known example of the intricate symbiosis between art and science is Islamic art, such as this piece, rich in complex tiling patterns, exhibited in the citadel-palace Alhambra in Granada, Spain (below). Artworks like this one have inspired many of the imaginative tilings of the Dutch graphic artist M. C. Escher.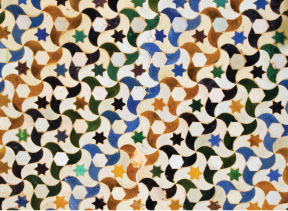 Tilings create an interesting mathematical problem. It is easy to tile a large floor with squares, equilateral triangles, or regular hexagons. But no matter how hard you try, you cannot tile a large floor with pentagons—unfilled gaps always remain. Intrigued by this problem, mathematical physicist Roger Penrose discovered in 1976 two shapes of tiles that could be used to fill the entire plane, and yet exhibit the five-fold symmetry characteristic of the pentagon. This art-inspired tiling exercise might have remained in the relative obscurity of recreational mathematics were it not for a dramatic discovery in 1982. Materials engineer Dan Schectman discovered that the crystals of some aluminum-manganese alloys exhibit precisely the same regularity as Penrose's tiles, even though such structures were previously predicted to not exist in nature. In spite of the initial skeptical reaction by many chemists and physicists, Schectman went on to win the 2011 Nobel Prize in Chemistry for discovering "a new principle for packing atoms and molecules." The fascinating materials he unearthed are now known as quasicrystals.
This was not the only time in which forms created by artists generated a buzz in mathematics. The great German painter Albrecht Dürer mingled his rare virtuosity in engravings with his fascination with mathematics in his enigmatic allegory Melencholia I (below). Many crystallographers and perspective analysts attempted to reconstruct the perplexing solid appearing in the middle-left of the engraving.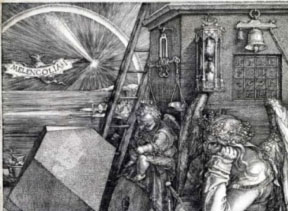 The ambiguous results of these investigations prompted researcher Terence Lynch to conclude: "As a representation of polyhedra [solids] was seen as one of the main problems of perspective geometry, what better way could Dürer prove his ability in this field, than to include in an engraving a shape that was so new and perhaps even unique, and to leave the question of what it was, and where it came from, for other geometricians to solve?"
Join us at the Metropolitan Museum of Art on Thursday, May 31, as we move from atoms to the cosmos, and take a closer look at the storied relationship between art and science.
* * * * *
Mario Livio is a senior astrophysicist at the Hubble Space Telescope Science Institute, and the author, most recently, of the critically acclaimed book Is God a Mathematician? His book Brilliant Blunders is scheduled to appear in May 2013.
Artist as Innovator: Visions of a Floating City takes place on Thursday, May 31, at 6:00 PM at Metropolitan Museum of Art, Bonnie J. Sacerdote Lecture Hall in The Ruth and Harold D. Uris Center.
Click here to get tickets